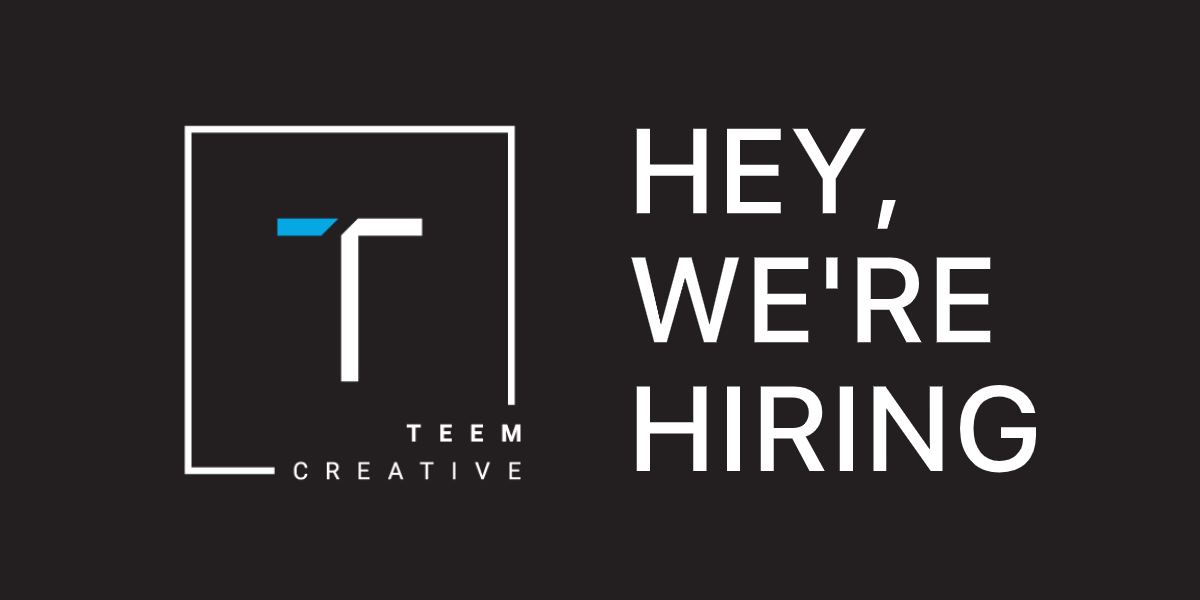 30 Aug

Job Posting: Digital Marketing Specialist

Role: Digital Marketing Specialist Dates: Open now, applications due by September 13, 2019 About TEEM TEEM is a full-service boutique marketing agency located in Denver, Colorado. We serve clients as their team of record, utilizing a network of specialized, multi-disciplinary freelance talent as well as a hub of close-knit marketing tacticians to execute strategic, creative and digital projects. We partner with clients on a broad range of projects, programs and campaigns – such as planning and strategy, branding, messaging, packaging, website design/development, SEO, social media, content marketing, lead gen, performance media and general marketing execution. About the role We are seeking a talented Digital Marketing Specialist to join our team and partner with our Account Team to create digital campaigns that engage and convert. As Digital Marketing Specialist, you will own: Campaign Strategy & Content Creation
Defines content strategy based on direction and insights from the Account Team and client

Outlines content calendars, distribution cadence/channels, and works backwards to define due dates and a roadmap for content creation

Partners with TEEM's copywriters and designers to create articles, posts, infographics, imagery, video, ads and all assets necessary for planned digital campaigns

Manages content release and performance through blog, social, email and other channels

Ability to develop a customer journey across multiple channels with multiple touchpoints that all work cohesively together
Social Media
Takes ownership of social media channels from campaign concept to content creation, scheduling and posting, performance monitoring, community management, and distilling insights from analytics

Monitors and responds to social interactions/inquiries for multiple clients' social accounts

Monitors and identifies sharing and engagement opportunities for a client's key customers, partners, influencers, industry publications, media outlets, etc

Manages both organic and paid social media including boosting and occasional light social advertising

Proactively works to boost following, engagement and ROI for social accounts
Email Marketing
Defines content strategy, funnel/drip maps, and email campaigns based on direction and insights from the Account Team and client

Leads setup of email campaigns and determines how to best utilize a client's email platform to accomplish objectives

Ensures a client's email platform is correctly integrated with their CRM, website, reporting tools, social channels, etc

Understands and maintains compliance with email marketing best practices and regulations such as GDPR, HIPAA, FINRA and anti-spam measures

Manages lists from import, to segmenting, to tagging, to building

Drives email marketing strategy, creative, implementation, distribution, reporting and performance from start to finish
Reporting & Client Service
Pulls analytics/KPIs across digital channels  for regular client share-outs, distills insights and identifies recommendations for improvement

Presents metrics, insights and recommendations to clients in cooperation with the Account Team

Participates in and potentially leads planning sessions, overarching digital strategy and key client meetings as needed
What we're looking for in a candidate The ideal Digital Marketing Strategist will be confident taking ownership of content planning, social media strategy & execution and email marketing, and also be savvy in digital marketing in general.  SEO capability and experience with Google Ads is a plus. We are looking for someone to be in our RiNo office in Denver at least 3 days per week, who wants to be an integral part of TEEM and to help grow the agency.  Required Skills and Capabilities:
This is not a content creation role. We're not looking for a copywriter or someone who gets warm and fuzzy when their post gets likes. We want someone who drives

real

results and knows how to convert through digital channels to boost sales and deliver ROI. Impressions that turn into engagements, to clicks, to subscribes, to leads, to customers, to repeat revenue… that's what you'll be helping make happen.

Have a detail-oriented mindset and love to identify the right target audiences, to schedule posts and work backwards to identify the milestones it takes to create the content

Comfortable with social media best-practices (targeting, character limits, hashtags, etc.) for platforms such as Facebook, Instagram, Twitter, and LinkedIn

Experience with scheduling platforms such as Hootsuite or Gain

Understanding of email best-practices and compliance, such as setting lists, subject line and preheader text lengths, optimizing to avoid being flagged as spam, etc

Experience creating Google Ads, from keyword research, to creating ads and monitoring performance.

Comfortable with minor website edits (i.e WordPress, Shopify), creating landing pages, and implementing light SEO related to content.

Familiarity with platforms/tools like Facebook Business Manager, Facebook Pixel, Facebook Ad Account, Google Analytics, Google Tag Manager,  Yoast, product feeds, etc.
Skills That Are a Plus:
Confident comparing and recommending the right software, tools and integrations to develop a coherent digital marketing ecosystem for clients

In instances of new CRM setup, owns the setup of lists, data fields and tags so that the import of a clients' contacts are clean and without errors

Ability to set up and manage light pay-per-click (PPC) campaigns primarily through Google Ads: keyword research, targeting, ad copy, campaign set-up, monitoring, optimization and reporting 

Some programmatic familiarity and capability (through a platform such as Choozle)
Qualifications
3 – 5 years experience in a marketing / digital / advertising agency

Experience leading comprehensive digital campaigns and deliver results/ROI

Bachelor's degree in marketing, advertising, communications, or a similar focus area

Ability to manage multiple accounts and tasks simultaneously

Habit of nurturing strong working relationships

Desire to join a tight-knit team in a unique agency model

Willingness to roll up their sleeves and tackle any task
Compensation & Benefits
Salary:  Commensurate with Experience / Probable Range of $50,000-70,000 to start

Benefits:  Health, dental, vision and GAP insurance with company contribution, professional development and advancement opportunities, discretionary bonuses
To apply
Send an email to

info@helloteem.com

with 'I'm the Digital Marketing Specialist' in the subject line

Share briefly why you are the perfect person to join our team in this role

Include your resume and link to any applicable portfolio, profiles, campaigns you've managed, etc.
Applications close September 13, 2019.