Graphic Recording Studio Shares Key Takeaways from a Session for the Music Industry
Beth Hayden, TEEM
Recently, the AMP Music Summit brought together several top music industry experts to talk about how musicians can create new business in these turbulent times. The panel included Boris Patronoff of See Tickets N. America, Andrew Goldstone of the YMU Group, and James Andrews of The Authenticated.
TEEM friend and contractor Alece Birnbach provided graphic recording services for the summit, and she graciously agreed to let us share her top five takeaways from the session.
Although the panelists were speaking directly to artists and producers in the music industry, the ideas they shared apply to any creative business owner or freelancer.
We hope the panelist's insights will inspire some shifts in the way you think about building your business during the pandemic.
Here are Alece's top 5 takeaways from the session:
This is an amazing time for invention – embrace that opportunity whenever you can. Look for new virtual opportunities and think outside the box when it comes to your business.
Networking is critical right now. People are more available and willing to collaborate, so reach out to customers and potential partners by picking up the phone and looking for ways to personally connect.
Use this time to dream big and reimagine what your work could look like. We are living in a new normal, and the best thing you can do is pivot quickly and look for ways to accelerate your progress.
Marketers are looking for new ways to engage and places to invest. Opportunities are out there, so get in the habit of thinking like an entrepreneur and putting new ideas out there.
People have always looked to the creative economy to solve problems, so lean into your passions and create new work. Create novel things for people to talk about, instead of stagnating and waiting for circumstances to change.
Here is the full version of Alece's detailed graphic recording of the entire session: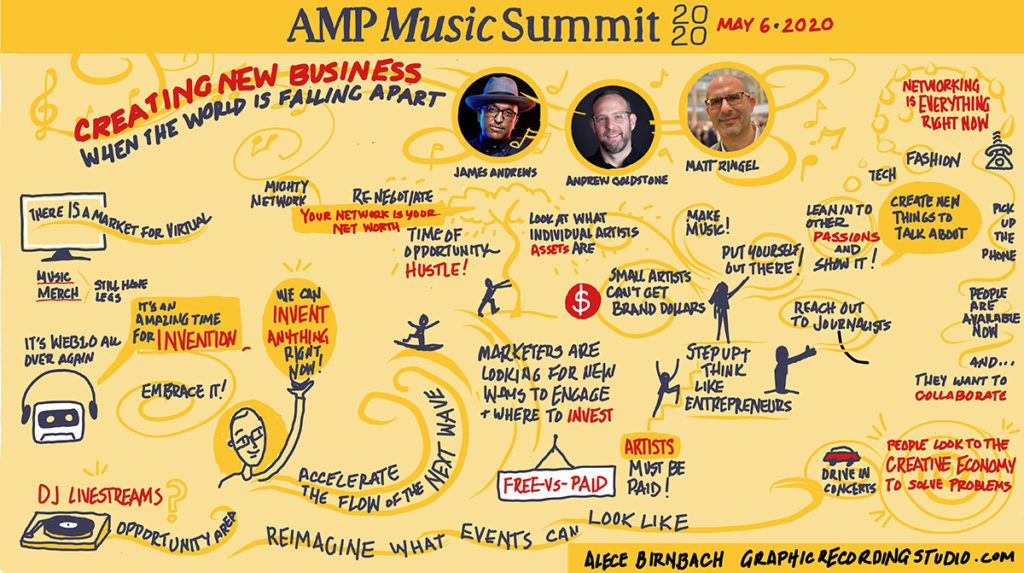 Alece Birnbach is a live session graphic facilitator and digital remote graphic recorder who helps organizations have more meaningful meetings and events through the use of visuals. You can find out more about Alece's work at her site, Graphic Recording Studio.